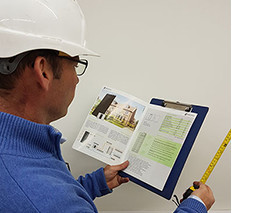 26 Jul

SOLAMICS BUNSEN AIR – Now Available in York

With an established network of installers in place to service the UK and Ireland, those thinking about investing in a thermodynamic hot water system such as the Bunsen Air, no longer have to question, whether a lack of trained Bunsen Air installers will present a problem after purchasing an eco-hot water system.

Infinity Innovations Ltd. launched the Bunsen Air thermodynamic hot water system on to the UK market last year, but in order to expand its national availability, and remove any obstacles surrounding installation that could have previously deterred solar businesses from wanting to invest in this environmentally friendly system – Infinity Innovations have created a Nationwide Installer Support Service.

This service, has been designed to enable customers across the entire UK, access to specially trained Bunsen installers, who will be able to assist them with the installation of their new thermodynamic hot water system.
Bunsen Air – Available for installation in York
Yorkshire is the largest county in the UK, as it is also split into 4 sub-counties. Infinity Innovations Ltd. who are based in West Yorkshire themselves, needed to consider how they could accommodate trade needs for the entire county, and not just customers living in close proximity to their warehouse in Bradford, West Yorkshire.
Evidently, there was a demand for thermodynamic hot water systems in York and surrounding areas, therefore Infinity Innovations Ltd. wanted to invite and train a handful of installers to their Training Centre, where they would be provided with expert training in Bunsen Air installation, enabling them to service customers in York and its surrounding North Yorkshire areas.
North Yorkshire now has access to a handful of F Gas engineers qualified and trained for Bunsen Air thermodynamic hot water installation, this rise in qualified F Gas engineers in York, is simply a reflection of the increasing demand for thermodynamic systems and renewable innovations in the area.
Alongside this, there is also a healthy plumbing trade in York, so Infinity Innovations wanted to offer specialist trades chance to receive unique Bunsen Air installation training at the warehouse, and to be the first to experience this fantastic thermodynamic solar water heating technology and become empowered with the knowledge and expertise to install them.
This training, alongside their F Gas installer status, has meant that North Yorkshire plumbers have benefited from being some of the first in the country with the specialist knowledge and training, to responsibly install a Bunsen Air hot water system, giving solar services in York access to their installation expertise.
As a result, the North Yorkshire Bunsen Air customer base has also increased.
Find out more
To find out more about how to access our Nationwide Installation Support Service, contact us now