12 Sep

JEM ENERGY…THAT'S ONE GOOD LOOKIN' BUNSEN!
Another Solar Hot Water System, Installation Success Story…
Yet another successful thermodynamic solar hot water system installation job for southern renewable energy supplier JEM Energy this week, at a property in Matlock!
The JEM Energy team did a fantastic job on their most recent Bunsen Air installation in Matlock, this time the customer opted to mount the thermodynamic hot water panels on the roof of their property, to benefit from hot water all year round.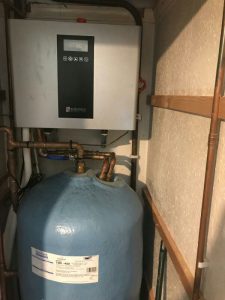 Just in time too as winter is on it's way, and if it's to be as cold as last year, there could be many more condensing boilers freezing over again across the UK!
Infinity Innovations Ltd are looking forward to hearing this customers feedback after a few weeks of using their new green water heating system.
Contact us to find out about having your own Bunsen Air green hot water system installation…