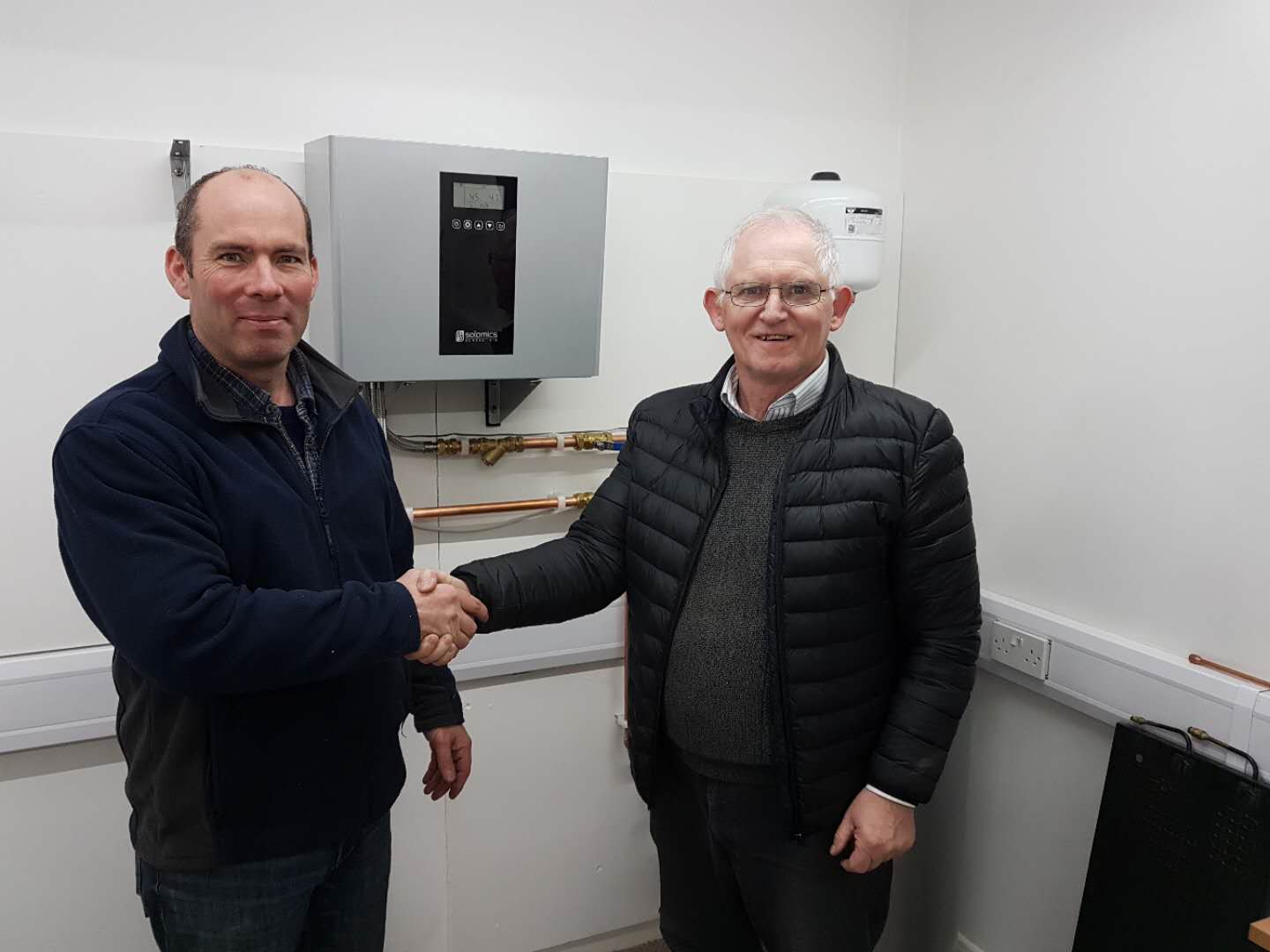 18 Jun

Ambisolar Ltd – Now an Official Irish Trading Partner of the Bunsen Air
"Brilliant… just brilliant"
It's not every day that you find a business partner so incredibly passionate about the products they invest in, but following his recent visit to the Infinity Innovations training centre, "Brilliant" is exactly how Arthur Tormay – owner of Ambisolar Ltd, described the Bunsen Air thermodynamic water heating system.
Who is Arthur Tormay – Ambisolar Ltd?
Already a highly experienced hot water system installer and expert in the products he sells, Arthur came across the Bunsen Air hot water system after receiving some marketing correspondence from Infinity Innovations Ltd last year, and was so intrigued by what he had read, he wanted to find out more…
Arthur contacted Bunsen distributors – Infinity Innovations Ltd, and following a call with company director Jake Findlay, decided to fly from his home in Ireland to Yorkshire in December 2017, for the sole purpose of seeing and learning more about the Bunsen Air.
Whilst at the training centre, Arthur had opportunity to fully inspect the system, and look at Infinity Innovations own installation. He learnt more about the added features of the Bunsen Air, including its many benefits and superior components. He was particularly impressed by the sophistication of the Bunsen controller unit – an advanced controller allowing for flexibility of use, which can be set to target temperatures at different times of day, alongside other superior features such as the Bunsen's rotary air compressor and dual exhaust technology.
Mr Tormay commented, "Everything I had ever wanted to be incorporated into a system, has been combined into the design of the Bunsen Air".
Arthur returned to Solamics Bunsen Air distribution base in Denholm Yorkshire, and made the decision to purchase numerous systems, all of which he took back with him to Ireland personally.
He then installed a system on his own property and was absolutely staggered by the results…
"I had a wish list of everything I wanted to be developed into a thermodynamic system, and Solamics have quite literally made this possible, in light of the power and efficiency I have experienced in the Bunsen Air, the quality of what a customer is getting for their money is incomparable and undeniable".
About Arthur's own installation
Since coming onto the UK market, thermodynamic hot water systems have not changed, very little developments have been made in terms of the system components and key benefits and features, but the Bunsen Air has changed this, taking thermodynamic technology to an entirely new level.
This is down to key features such as…
It is a dual panel system
It is the only system of its kind to feature dual exhaust technology, producing higher power and efficiency which single flow channels cannot achieve.
Superior reheat times
It has been independently tested for noise levels, performance and power
Exceptionally low noise levels
Estimated energy savings of 70%
It features a next generation rotary compressor for higher power and efficient recovery times
Rated electrical power of just 444w
The system can be set to target temperatures for different times
Mr Tormay added "This system is revolutionary in terms of thermodynamics, and far exceeds any system that has come before it, I cannot thank Jake and the Infinity Innovations team enough for bringing it to my attention".
Ambisolar Ltd begin to distribute the Bunsen locally
In light of his experience of the Bunsen Air hot water system, Arthur has decided to distribute the Bunsen Air uniquely, as his exclusive choice of system for domestic hot water. This is a reflection of the superior power and efficiency demonstrated by the Bunsen.
Mr Tormay has been supplying thermodynamic systems for years on a business to customer level, but now intends to distribute the Bunsen Air Solar Assisted Heat pump to other local renewable companies also.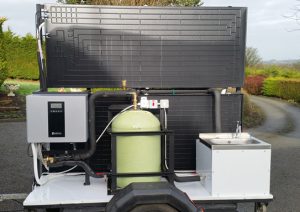 Alongside this, Arthur has created a demonstration rig (shown left), that he intends to take with him to various exhibitions and trade shows, this rig will feature quite simply, the thermodynamic panels, Bunsen unit, water cylinder and a sink with running water. All of which will allow customers to experience just how powerful the Bunsen Air Solar Assisted Heat pump really is.